Even a well-designed and maintained gas installation carries the risk of gas escaping through various types of leaks that may occur during the operation of the building. The risk is higher when the installation is used for many years and the inspections and repairs of this installation are not carried out regularly and professionally.
Increasing the level of operational safety of gas equipment and installations is possible by stationary gas detection systems, which, combined with specialized solenoid valves, cutting off gas supply in emergency conditions, form a local Active Gas Installation Safety System (hereinafter referred to as the System), which:
detects the presence (leakage) of gas (natural gas, propane – butane, carbon monoxide)
warns the user and inform responsible services about the leakage
immediately cuts off the gas supply to the faulty installation, thus eliminating the risk of a gas explosion
The typical System includes:
gas detectors (sensors)
central unit (system control module)
gas shut-off valve (MAG-3, ZB)
additional elements such as: sound signaling devices, optical signaling devices, etc.
Detectors and cut-off valves installed in a explosive hazardous area must be explosion-proof (Ex) and meet the essential requirements of Directive 2014/34 / EU (ATEX). The MAG-3 valve belongs to such valves.Localization  of the detector installation in a compartment with risk of gas leakage, and supervised by the System, has a fundamental impact on the effectiveness of this system. * The general rules for the placement of detectors should be followed and it is the best to entrust this task to a competent specialist.The FLAMA-GAZ company is a manufacturer of the System's executive element – valves cutting off the gas supply (with manual opening setting):
These valves can cooperate with virtually all types of gas detection systems available on the market. These systems differ from each other by the system solutions (technical capabilities) used by individual manufacturers, the degree of self-diagnostic function, the way of communicating with the user, and the price. However, regardless of the particular design the base function of every gas safety system remains the same: detect the leak and immediately cut off the gas supply to the faulty installation. All Systems have the possibility of expanding by a larger number of detectors working in the system.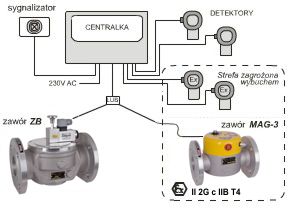 Gas Safety Systems applications:
gas boilers rooms (§158 item 5 WT **)
reduction and measurement stations
Liquefied gas depot
Domestic installations
Public utility buildings
and other facilities where there is a possibility (due to uncontrolled gas leak) of a gas explosion hazard (§ 158 (2) WT **)
Safety  systems are offered by some companies also in the home version – much cheaper. It differs primarily with the type of detectors used, which combine a detection function with a control and alarm function (control module not required). However, the system's capabilities in this version are smaller. The actuator – the ZB cut-off valve – remains the same. We provide all additional information related to the selection, installation and operation of the Systems by phone.