Features:
it detects dangerous concentration of natural gas, propane-butane, carbon monoxide in the supervised compartments
signals (warns) about a hazardous conditions
immediately (automatically) cuts off the gas supply to the faulty installation, which protects the life and health of residents and protects buildings (apartments) and equipment of considerable value from damage.
This safety system:
is reliable and effective (re-opening the valve can only be done manually – consciously)
it does not depend on the reaction speed or irregularity of the actions taken by the user of the installation after detecting a dangerous gas concentration
works automatically, also in the absence of the user
does not affect the operation of gas appliances in the absence of power supply or short-term its decay
System components:
1 Basic detector (gas)
1a Additional detectors (gas, carbon monoxide) – to expand the system
2 ZB valve to cut off the gas supply
3 Additional external signalling device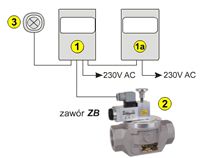 The system is intended for use in:
households, apartments, kitchens, bathrooms, offices, basements, garages, boiler rooms, laboratories and others, in order to increase the safety related to the operation of gas appliances installed there.
*General rules for the installation of the Gas Installation Safety System
Is it worth to invest in the Domestic Gas Installation Safety System?

It is WORTH, because:
makes the use of gas receivers such as: cookers, boilers, heaters, becomes safe and the failure of the gas installation does not threaten life, therefore:- it is recommended for older people and families with children,- necessary in buildings with old gas installations,- it is recommended for all installations (especially for propane-butane)·
it is a professional, reliable, maintenance-free device with an extensive self-control system
it is easy to assemble
 system purchase can be deducted from the tax base
it is possible to negotiate the terms of apartment
has the required approvals (certificates)
We provide all additional information related to the selection, installation and operation of the Systems by phone.